SerpWatch: The New Moz Alternative
Are you just now starting your search for a good SEO tool? Hey, no matter how late you are, you still have the chance to get to the first page of Google on your own merits! To that end, you've probably heard of Moz, but did you know that there's also a brand new Moz alternative that will suit your needs even better?
Yes, Moz may be considered a pioneer in the world of SEO, but as time passes, fresh new faces arrive on center stage, and SerpWatch is exactly one of those—a cute robot face you cannot help but notice immediately. And you'll enjoy using it too.
Why?
Because SerpWatch knows just what ails you when it comes to expensive SEO tools that say they have it all—they are not as all-encompassing as they claim to be. They do not include an accurate rank tracker that's as good as you need it to be, nor are they as handy to all users as they once seemed to be.
Hence, SerpWatch has made sure to excel in all its features. It has very precise and accurate keyword rank monitoring, updates that are more frequent than with any other similar tool, customizable notifications for each change you want, and integration with various services, which enables you to create actionable data.
But, to keep things fair, we've created a step-by-step comparison of both tools against relevant criteria—tool type, key features and integrations, pricing models, and support.
Scroll down to find out more!
SerpWatch

Features

Moz Pro

UI Ease of Use
Web-based
Highly specialized tool
All-in-one SEO tool
Various SEO metrics
Detailed keyword ranking metrics
Clean, modern UI
Easy onboarding
Made for SEO professionals
Project overview
Star favorite keywords
Auto-populate with keywords
In-app adding keywords to track
Keyword import via CSV upload
Suggest similar keywords to track
Usability
Relevant, modern tool
Competitive tool
Deep database
Relevant for SEO and PPC
Useful for complex websites
Provides correct results
Provides consistent results
Quick data pull
Data Filtering
Advanced keyword data
Advanced SERP features
Traffic insights
Multiple languages available
Cross-project keyword tags
Add keyword position notes
Visibility overview
Competition comparison
Historical rank data
Detailed historical data
Data available indefinitely
Data Coverage
Multiple search engines
Search engine comparison
Multiple Google indexes
Desktop ranking index
Mobile ranking index
Global rank tracking
Local rank tracking by country
Local rank tracking by state/city
Checking Frequency
Hourly updates
Updates every 2 hours
Updates every 6 hours
Updates every 12 hours
Daily updates
Weekly updates
Notifications
Position change notifications
Google Algorithm update notifications
SERP feature notifications
Get notifications in Slack
Get notifications via email
Integrations
Data workflows via Zapier
Integration with Google Analytics
API integration
White Labeling
White label feature for agencies
Individual Client Portals
Send a report to a client from the tool
Customizable reporting
Reporting for a specific timeframe
Report via email
Report download
Pricing
Affordable pricing
Flexible pricing
No additional fees
Free trial period
Free Demo mode
Access to all features during the trial period
Perks for subscribers over time
API availabiliy
Track from desktop and mobile
Unlimited users
Unlimited sites/projects for tracking
Unlimited locations for tracking
Support
In-app tutorial available
Helpful knowledge base
Support via chat
Support via email
Response promptness
Moz vs. SerpWatch – Review
Tool Type
Both Moz Pro and SerpWatch are web-based SaaS tools. If you don't know what that means yet, we've got you covered.
When you buy a tool like SerpWatch, you get online access to a piece of software that performs a specific type of service. In this case, it monitors the movement of your keywords across search engines like Google, Yahoo, Bing, Yandex, Baidu, etc.
So you are not getting desktop software, which means you don't need to download anything to your office computers. That's the "web-based" part of a web-based rank tracker such as SerpWatch or Moz—everything is online and accessible from any device, at least with SerpWatch it is.
Not only that, but such tools also have a higher rate of giving more up-to-date data, as it's easier for them to crawl search engines with the specific purpose of gathering relevant SEO information. Hence, what you get with web-based tools is faster service, more accessibility, and reliable and actionable data. Again, we can say this only for the best alternative to Moz—SerpWatch.
Key Features
If you are serious about taking care of your website's search visibility and ranking high in the SERPs, it's important to put your trust in the right kind of tool. Moz is indeed among the most famous ones out there, but can it really justify the reputation it's been enjoying? Let's examine.
Several products fall under the Moz brand, and the most famous one is Moz Pro. It's a paid software, which means you need an active subscription to be able to use the included tools. Even though there's an option to use some of its tools (like Open Site Explorer and Keyword Explorer) for free, that offer is limited to a set number of times per month.
It's important to note that even these free options are only meant to be used as additional tools that complement the main Moz Pro assortment:
Rank Tracking
SEO Audit & Crawl
Backlink Research
SEO Toolbar
Keyword Research
Domain Analysis.
However, Moz reviews state that users are pretty unsatisfied with this kind of division as the limitations put them off from investing in the pro version, which includes the keyword monitoring tool. Being unable to sample all that Moz Pro has to offer makes potential users reluctant to spend money on more of the same.
Moreover, even though Moz advertises itself as an all-in-one solution, users seem to disagree with that assessment as they have claimed they cannot rely solely on the Moz SEO tool for a 360 view of their search engine optimization efforts.
Additionally, Moz Pro allows you to track your keyword rank, as well as that of your competitors, but only in the US as a whole and internationally. You will also receive regular email reports, but it will contain only the basic SERP metrics. You won't get any notifications.
When it comes to the keyword rank monitoring aspect of SEO, the Moz alternative, SerpWatch, can give you so much more.
Continue reading to find out how!
Easy-to-Use Interface
Moz Has an Unintuitive and Old-Fashioned Dashboard
For a tool that has some years under its belt, it's surprising that Moz still doesn't provide its users with an intuitive interface. They describe it as unappealing, hard to navigate, and difficult to get used to. Moreover, setting up projects in Moz Pro takes a long time and a guiding hand by customer support if you want to do it right.
Even though you can sort keywords into projects, shuffling between them is quite difficult. Furthermore, the information available in the Moz rank tracker lacks the detail we've come to expect from tools of this kind, so at some point, you start to wonder why you are even paying for the service.
SerpWatch Has a Clean and Modern UI Design
With SerpWatch, you get a clean and user-friendly dashboard where you can make sense of the information without any trouble. With a clear overview of the basic information regarding all your tracked projects, you can see the number of keywords you are currently tracking, as well as their movements—how many of them have gone up, down, or haven't changed their position since the last update.
Any keywords you may have marked as particularly important or starred in the SerpWatch rank tracker tool are right below. You can see the basic metrics without even entering a project and, based on that, decide if you need to change anything.
Managing projects in SerpWatch is also quite easy. You can perform a search of all your projects by their names, choose the number of projects you want to be shown on each page, delete any you are finished with, or simply change their order. Easy, right?
Moreover, SerpWatch lets you examine information on each project from the main dashboard as well, which is especially useful for keyword rank tracking. You can see how many keywords you are tracking in each project, their movement since the last update, as well as the tracking parameters you have chosen for the projects—checking frequency, location, search engine, and language. Also, you can edit any project you want, edit notification settings for the entire project, set up reports, or even delete a project.
Project Overview in SerpWatch Is Very Insightful
It's not enough to just have all sorts of data available. For it to be really useful, you need to be able to understand it. That's where SerpWatch proves it's a worthy Moz Pro alternative.
By sorting information into meaningful sections, SerpWatch enables users to get insight into their keywords' behavior and things that can be done to improve rankings:
Project settings—search engine, domain, location, language, number of tracked keywords, time of the last update, and checking frequency
Keyword-occupied positions—keyword movements, top keywords, and their expected monetary value
Charts—ranking changes, Google Analytics data, expected revenue, and competition
Individual keyword position overview—movement direction, as well as current, last, and best position
Advanced keyword data—search volume (SV), cost-per-click value (CPC), competition difficulty (CMP), and an estimated monthly revenue (MR)
Individual keyword status and its last update
Actionable options—star your favorite keywords, keyword search, set up individual keyword notifications, or delete keywords.
Moz Has a Poor Display of SEO Metrics
When it comes to information displayed in the Moz Pro Rankings section, you don't get an awful lot. You see the overall visibility of the tracked keywords, how many of them are on the first and second pages, how many have had notable movements and the ones that have wound up in featured snippets in the previous week or month.
It's important to note here that Moz's SEO rank tracking software sees your keywords only if they are ranked in the top 50, as anything below is considered too volatile for getting relevant and actionable information.
Moz Pro displays your parameters in the upper right corner—the search engine, location, and period—as well as a ranking graph, the search engines, competitors, and opportunities below.
However, when it comes to the keyword overview, you get a real sense that something is missing. Aside from the level on which a keyword is being tracked and cross-project tags, what you get to see for each keyword are search volume, ranking, and the last movement.
If you want to check how your keywords perform when it comes to SERP features, you get a separate graph, which is somewhat richer in information. With the Moz ranking tool, you get a picture of the keywords that have resulted in SERP features within a particular previous period, and you can also compare this with your competitors.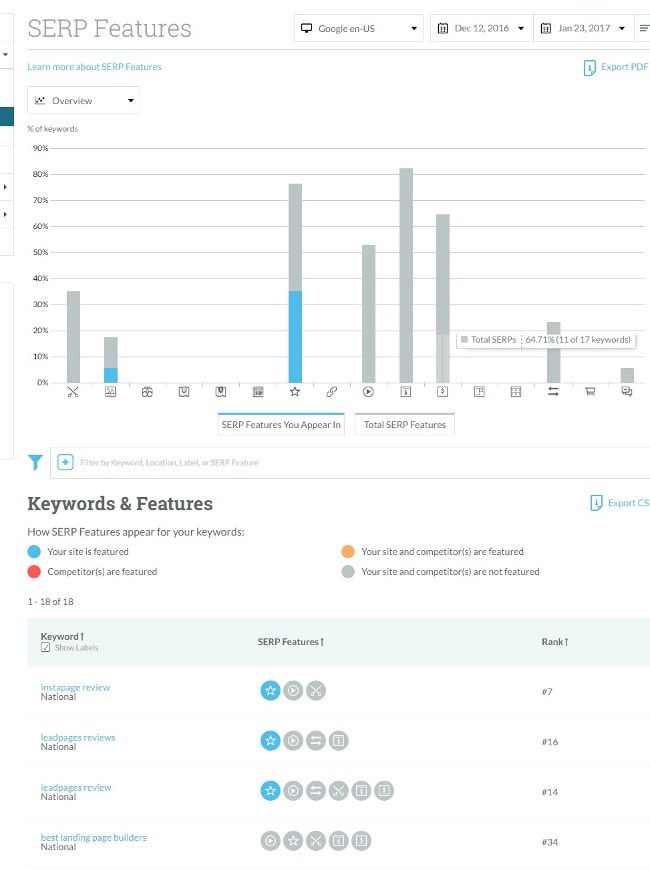 But it's still so much less than what you get with SerpWatch.
SerpWatch Displays Advanced SERP Data Clearly
For additional information on how your keywords are ranking, click on a particular one and get a clear view of the situation.
If you need advanced SERP data for your keywords, the Moz alternative, SerpWatch, can get it for you. For example, you can see which, if any, of your keywords can be found in a featured snippet (like in the example below), how long they've been there, and additional information on the content the keyword is included in.
There are other search return types your keywords can be found in, such as written text, image, or video. You can also see their location in the search result section—featured snippet, people-also-ask-box, or custom rankings.
Track Keywords in a Variety of Ways
Moz Pro, as well as many alternatives to Moz, like SerpWatch, have developed a variety of ways in which you can add keywords to track. If you want to expand the list beyond the one you made when you created a project, simply click on the Add Keyword button and choose how you want to do this—by uploading a CSV file or manually.
Usability
Moz Is Not Very Useful for Tracking Keywords
One of the things you can find out by reading the latest Moz Pro review comments is that Moz has been made obsolete by the newest features added to Google Analytics. To that end, there's a general opinion that Moz is no longer a relevant tool for modern SEO professionals since many competitors—SerpWatch included—can boast having better software for monitoring keyword rank.
Many users have noticed that Moz doesn't have a database deep enough to be able to handle complex websites and successfully track related keywords. Unlike the Moz alternative, SerpWatch, the tool doesn't have the best track record when it comes to consistently providing correct results or doing it quickly, for that matter.
You might think this particular pain point could have been eliminated when Moz shifted its focus from PPC to SEO exclusively, but unfortunately for their users, that did not happen.
SerpWatch Is the Perfect Tool for Modern SEO Professionals
On the other hand, SerpWatch is a modern SEO tool with a specific focus on the right kind of information that is always accurate and up-to-date. The technology behind SerpWatch's keyword rank tracker tool allows for quick information gathering from a number of search engines. Moreover, the high updating frequency enables users to always get new information, while customizable notifications and integrations keep you in the know and ready for action.
Data Filtering
The quantity of data available in any tool is as important as the way it presents that information, as well as the amount of value you get from the presentation. It doesn't matter if there are numbers upon numbers if you can't understand what they mean or if they are useful or not.
Even though both the Moz rank tracking tool and SerpWatch offer lots of features you would expect from such pieces of software, there is a considerable difference between the two even on the most basic level.
For example, the language options in Moz Pro are quite limited. The tool doesn't allow you to choose the country in which you want to track keywords separately from the language, but instead, it offers you the most used options for that region.
On the other hand, SerpWatch lets you choose the language in which you want to track the keywords independently from the country you choose.
Moreover, the SerpWatch keyword rank tracking software enables users to add tags to their keywords across multiple projects as well as insert notes at each keyword position they consider important for whatever reason.
Historical Rank Data
Both tools have made a history of keyword ranking data available in the app itself instead of just in their reports. The data goes back to the project creation date and offers insights into the way a particular keyword has experienced ups and downs as well as relevant third-party influences.
Context to Data
Another aspect where Moz Pro and SerpWatch—an alternative to Moz—are similar is the way in which they give context to historical data. They don't just display keyword movements over time—they also help users attribute the causality of those movements.
However, SerpWatch does it better.
By providing graphical representations (Ranking, Featured Snippet, Google Analytics, Revenue, and Competitors), users get more than just bare numbers.
SerpWatch overlays each major and minor Google algorithm update on top of its charts to help you understand how they impact changes in keyword and website organic search rankings. This feature includes algorithm update names, dates, and descriptions.
The feature provides various types of context and allows users to pick up patterns of their keywords' position changes over time. Hence, it aids SEO professionals in reaching and keeping the desired rankings.
Data Coverage
Moz Has a Narrower Selection of Search Engines
One advantage of the Moz SEO tool over other similar tools is that it's not focused on monitoring keywords on Google alone. Aside from Google, it covers Yahoo and Bing as well. However, when it comes to multiple Google indexes, Moz collects data only for Google Mobile and Google Desktop.
SerpWatch Covers a Variety of Major Search Engines
Conversely, with SerpWatch, users can track their keywords on Google, Bing, Yahoo, and Yandex and compare the data between all of them. That means that this alternative software to Moz enables you to gather more information about the way your website is ranking and devise the best strategy to keep or improve rankings on multiple fronts.
Furthermore, SerpWatch provides tracking information related to various Google and Bing indexes, like Google.com, Google Maps, Google Shopping, Google News, and Bing Map Pack. This allows users to focus on specific subpages to realize their ranking potential.
Global and Local Rank Tracking
Both Moz and SerpWatch can track keywords on a global level—in the US and internationally. However, SerpWatch is still developing its localized SEO rank tracker, which will be able to cover US states and cities. With its high level of accuracy, this will be an amazing opportunity for all users requiring ranking data for regions outside of the US to get it trouble-free.
Desktop and Mobile Indexes in All Plans
Since an increasing number of searchers are using their mobile devices to find what they need on various search engines, SEO professionals find it very useful to be able to optimize their websites for mobile as well. It's become a priority recently.
That is why both Moz and the Moz alternative, SerpWatch, have made it possible for users to track both desktop and mobile indexes in all pricing plans.
Checking Frequency
When it comes to the amount of tracking updates users get over time, more is definitely better.
Why?
Because, if you want to know how your keywords are doing at all times, you need to have information that is always fresh, so you can make necessary changes to improve or keep the rankings you want. This is an area in which SerpWatch excels.
Moz Provides Infrequent Updates
The search engine rank tracking software provides only weekly ranking updates, which is pretty infrequent for modern SEO needs. To make things worse, you can't even run manual updates from the app, so you're basically on your own when it comes to keyword tracking.
SerpWatch Has a High Tracking Update Frequency
On the other hand, SerpWatch is a SERP rank tracking tool that listens to its users' needs and has therefore developed a much higher update frequency rate than any other rank tracker. SerpWatch provides tracking updates every one, two, six, 12, and 24 hours—just what you need to be on top of your SEO needs.
And don't worry, you don't have to enter the app every hour on the hour to see what's going on—just set up the notifications, and SerpWatch will alert you of what you wanted to know.
Notifications
Moz Doesn't Offer Any Keyword Ranking Notifications
If you are hoping to get notified of any type of keyword position change in Moz Pro, you'll be very disappointed. It doesn't offer any notifications when it comes to this aspect of SEO. Users have to seek out the information themselves in the app or in the weekly email report.
SerpWatch Has a Customizable Notification System in Place
Yet another reason why SerpWatch is the perfect alternative to SEMrush or Moz is its highly customizable notification trigger system. To be able to react quickly, you need to have first-hand information while it's still relevant and actionable. You get to decide what's important for you and, consequently, enable notifications in SerpWatch for all kinds of ranking changes:
Keyword position change—a keyword moving up or down for the number of positions you designate
Google algorithm update—a major or minor Google algo update
SERP feature change—a keyword appears or disappears from a featured snippet.
You can also choose how you want to be notified—through a Zapier-triggered task, via email, or in a dedicated Slack channel.
Moreover, you can decide if you want to receive these notifications for all keywords (on the project level), for some of them, or none, and how big the ranking change needs to be for you to get notified. For example, you can choose to be alerted if your website rank goes two places up, seven places down, breaking into the top 10 or falling below #30—it's entirely up to you.
Integrations
SerpWatch Offers More Integration Options
Both Moz Pro and SerpWatch can integrate with Google Analytics to be able to provide a more comprehensive picture of the data they collect.
However, SerpWatch also integrates with Zapier and developer APIs in all plans when it comes to this search engine rank tracking software.
To be able to make all gathered information immediately actionable, SerpWatch has provided its users with trigger-based tasks that address changes they choose to track. That way, from the time a particular change has occurred to the moment you find out about it and finally get to respond, only a few minutes pass with SerpWatch, instead of hours, days, or even a week, like it's the case with most other SEO tools.
White Label Feature
White labeling has proven to be the most sought-after feature that marketing agencies look for while evaluating any SEO tool. The possibility to brand client reports generated in a third-party tool with its company logo, for instance, can add to an agency's credibility and elevate its brand image.
Moz Offers Limited White Labeling
While the option to brand any SEO ranking report generated in Moz Pro with your own company logo is available, you won't have access to it in the lowest pricing plan. Moreover, it seems that Moz doesn't allow the agencies' clients to have their points of access to this tool, in the same way they cannot receive reports directly from it. However, you can customize the reports, download them from the app, or get them via email on a weekly or monthly basis.
SerpWatch Has Customizable Reporting and White Label
SerpWatch understands how important it is for users to be able to choose the metrics that go into the ranking reports a tool creates. Therefore, you can completely customize reports in terms of metrics, format, and the timeframe that's being taken into consideration. You can brand it as your own and download it to your computer or send it directly from the app if you choose so.
Additionally, agencies can now enable individual Client Portals that would allow their customers to have their own points of access to the tool and see what the results of the agency's SEO efforts are.
Pricing
When it comes to the pricing models developed by Moz and SerpWatch, the two tools quite differ.
Moz Pro Is a Costly Tool
Moz Pro pricing plans start at $99/month. That's the Standard plan, and it allows you to track 300 keywords in no more than five campaigns. That means you can track one of your own and three competitors' sites with the mobile index and weekly updates from two user seats, but you don't have access to white labeling and Moz's report templates.
But, with more expensive packages, users have access to more features. For $179/month (Medium plan), 10 users can track up to 900 keywords in 10 campaigns. The next Moz pricing plan costs $249/month (Large plan) and lets you track 1,900 keywords in 25 campaigns from an unlimited number of user seats, while with the most expensive one (Premium plan), you can track 4,500 keywords in 50 campaigns from 40 user seats for $599/month.
Even designed like this, the offer seems quite limited, especially since you don't have access to the ranking tool without subscribing to the paid solution. There isn't a free Demo option like with SerpWatch, and there may be an additional Moz-related cost you may have to pay if you want to access more features. Also, the number of users in each pricing plan is clearly defined, and they cannot access the tool from mobile devices.
On the other hand, if you need a custom plan, Moz has made it available in their Enterprise solution. Moreover, the free trial version does last for 30 days, which is a solid amount of time to get to know it and decide if it can be useful and not too expensive for you.
SerpWatch Has Affordable Pricing Plans
If you are looking for a cheaper alternative to Moz, SerpWatch is the right tool for you.
SerpWatch's subscription plans are flexible and allow for scaling according to the users' needs. You can choose the number of keywords to track, as well in what manner and how fast you will be spending your tracking credits. Accommodating a wide range of users, SerpWatch offers the tracking of between five and 100,000 keywords.
Moreover, SerpWatch offers both monthly and yearly plans (annual plans come with a 10% discount), and you can change your plan anytime, which makes this reliable search engine position tracker extremely flexible. Here are just some of the super affordable SerpWatch subscription plans:
5 keywords (150 checks/month)—$1/month or $11 for the whole year
1,000 keywords (30,000 checks/month)—$59/month (monthly subscription) or $54/month (annual subscription, 10% off)
10,000 keywords (300,000 checks/month)—$165/month or $147/month (annual subscription, 10% off)
100,000 keywords (3,000,000 checks/month)—$1,500/month or $1,350/month (annual subscription, 10% off).
For the sake of comparison, the lowest Moz pricing plan costs $99/month and allows for only 300 keyword checks a month with limited access to its other features.
Conversely, no matter the plan you choose, with SerpWatch, you have complete access to all of its features. They include advanced tracking metrics, an unlimited number of users and domains to track, historical data that is available forever, and so much more.
Moreover, it's entirely up to you how frequently you want to check your SERPs, in how many search engines, locations, and devices. That means that you never have to pay for anything you don't use with one of easily the best Moz alternatives out there.
All SerpWatch's features are available during the free 15-day trial period, as well as in the free Demo mode, with no sign-in required and without any additional costs. Not only that, but users also have access to the developer API in all plans and can access the app from their desktop and mobile devices while also being eligible for pricing perks over time.
What more do you need?
Support
Finally, when deciding on any tool, for example, a website rank tracker you are supposed to be paying for on a monthly basis, you need to know what kind of support you can expect to make the final choice.
Moz Support Is Okay
Moz customer support is available via chat or email, and they have a helpful knowledge base. Still, their users do complain that they need too much assistance during the onboarding process.
SerpWatch Offers Better Support
SerpWatch has a better customer support system. Available at any time via email or chat, you can expect your problem to be solved in the shortest amount of time possible. Moreover, as the best Moz alternative, SerpWatch is with you from the very start, with a handy in-app tutorial to guide you through the first steps (how to create a project, add keywords to track, etc.). There is also a Knowledge Base full of helpful step-by-step instructions for all of you who want to learn more about the different SerpWatch features at your disposal.
Why wait any longer? Sign up for SerpWatch's free 15-day trial today or subscribe to a plan that suits your needs best!