A Rank Tracker With a Difference: What Sets SerpWatch Apart from the Competition
Are you tracking your keywords with SerpWatch yet?    
If not, you're missing out on a huge opportunity to take your SEO to a new level. 
Monitoring keyword rankings allows you to troubleshoot your strategy and quickly nip emerging problems in the bud.
However, tracking your keywords manually is not just impractical ‒ verging on impossible ‒ but also prone to bias and error.  
In order to use keyword ranking data to your advantage, that data needs to be as accurate as possible. 
This is why you need SerpWatch ‒ a rank tracker that monitors your keywords while you sleep, compiles accurate ranking data, and consolidates it all in one place.
The market is overflowing with fancy cure-all SEO tools vying for your attention while promising to magically transport you to #1 on Google.
But the issue with the majority of these tools is that they're simply not specialized enough for rank tracking.
And if they do offer a ton of ranking metrics, they display the results in such a way that it makes rank tracking look more complicated than it needs to be.
Another common issue few rank trackers have addressed is the accuracy of ranking data. While most tools are quick to guarantee 100% accuracy, they don't provide a ready means for verifying that claim.
Enter SerpWatch.
In an attempt to address the deficiencies of the existing tools on the market, SerpWatch has developed a highly specialized rank tracking solution. 
The guiding principles of SerpWatch rank tracker are data accuracy, user-friendliness, advanced keyword metrics, and supreme price to quality ratio.
The following are just some of the features that set SerpWatch apart from the competitors. 
Clean & Intuitive User Interface
SerpWatch rank tracker is a clean, intuitive workspace designed to make keyword rank tracking fast, easy, and accurate.
No convoluted navigation or technobabble here ‒ only your data arranged in a logical and visually appealing way.
The user-centered interface with its three-tier architecture (Dashboard, Project Level, and Keyword Level) allows for a smooth analysis of data without any unnecessary detours.
Dashboard
The first thing you will see after you log into the SerpWatch Dashboard are the most relevant ranking values: the number of projects and keywords you are currently tracking and the information about recent keyword movements.
Right below these numbers and above your project list, you will see your Starred Keywords. 
SerpWatch is the only rank tracker that allows you to star your most valuable keywords as favorites.
This will give you an instant insight into your prized keywords and allow you to prioritize your SEO efforts accordingly.
Scrolling down, you will find the list of all your projects with more icons for easy access to the commonly used functions:
If you're tracking dozens of projects at once, the last thing you want to do is scroll through an endless list to find the one you need. 
SerpWatch rank tracker solves this with a simple toggle you can use to reorder your projects by importance: keep those you access on the daily on top and let the others fall to the bottom of the list.
Project Level
Clicking one of your projects will take you to the Project Level where you will find more specifics about how all the keywords within your project are performing in Search.
Besides the general information about the keywords you're tracking, the Project Level overview also features a responsive graph with four tabs:
SW Score

Revenue

SERP Features

Analytics
(more on these later)
Below the graph are your keywords which you can easily reorder by dragging them up and down.
Keyword Level
Clicking one of the keywords will take you to the Keyword Level overview where you can gain a deeper understanding of each individual keyword's performance.
The Keyword Level offers an uncluttered but comprehensive overview of your keyword rankings.
The keyword-level graph shows:
Historical ranking data (saved indefinitely)

SERP features your keyword ranks for

Information about how the keyword rankings affect your Revenue

Google Analytics traffic data displayed as an overlay

Your competitors' rankings
This is also where you will find a feature that only SerpWatch does right and one that we are especially proud of – data verification.
Accurate & Verifiable Data
Google's UI is changing constantly, with each new algorithm update more unpredictable than the last. 
This means that keyword rank tracking is a constantly evolving discipline that requires a systematic approach and the ability to adapt to change.
What this also means is that any rank tracker that guarantees 100% data accuracy is a rank tracker you should avoid.
Unlike other tools on the market, SerpWatch rank tracker has adopted a realistic accuracy model where the reliability of data is continually being improved on.
What also sets us apart from the competition is the fact that our users can verify their ranking data at any time and report all issues they come across.
SERP Screenshots
The ranking data you see in the app can easily be verified via SERP screenshots, accessible at Keyword Level.
All you need to do is drag the cursor across the ranking graph and click "Open screenshot".
This way, users can verify data for the last 10 days of their rankings.
Optical Image Recognition
Since Google's algorithms work in mysterious ways, all rank tracking tools are prone to occasional errors.
However, not all tools have taken a proactive approach to minimize these errors.
SerpWatch is the only rank tracker that uses a specially designed image recognition system that can parse data from the SERP screenshots and compare it to the data shown in the app. 
This means that our engine is on a constant lookout to prevent data ranking errors commonly seen in other tools.
Reporting Issues
SERP screenshots also feature a "Report issue" button which has helped us improve our accuracy even more.
When users notice any discrepancies between the ranking data shown in the app and the one in Search, they can use this button to submit their data for review.
This sends a Slack notification to our technical team who can then start working on resolving the issue immediately.
If you're interested to find out more about the technicalities behind our data accuracy model, take a look at our previous blog post.
State-Of-The-Art Search Intelligence Hub
SerpWatch has also found a way to address the issue of scattered ranking data.
No other tool on the market consolidates all important metrics in one place and in an easily understandable manner.
Our innovative Search Intelligence Hub gives you a clear picture of your keyword ranking performance. It also serves as an ideal starting point for the reverse engineering of your SEO strategy.  
Search Intelligence Hub is a neatly organized cloud-based workspace that allows you to monitor all important performance metrics simultaneously.
This means you no longer have to flip between dozens of different SEO tools and apps in an attempt to make sense of the mounting data volumes.
The feature-packed interface gives you all the tools you need to accurately identify roadblocks and move past them quickly.
SerpWatch will also calculate your unique SW Score to help you understand what these metrics mean for the overall health of your projects.
Google Analytics Traffics Overlay
Another unique feature of SerpWatch is the Google Analytics traffic data overlay, conveniently displayed on top of the keyword ranking chart.
Users can easily integrate their SerpWatch accounts with Google Analytics to get a better grasp of the relationship between ranking fluctuations and traffic.
While SerpWatch is not the only tool that offers GA integration, only here will you find the traffic data so seamlessly reconciled with the ranking chart – at both project and keyword level.
Algorithm Updates Monitoring
Google's algorithm updates are notoriously unpredictable and can wreak havoc on website rankings with no prior warning.
For example, these updates are often behind sudden drops in rankings that many SEOs struggle to understand.
This is why SerpWatch has developed a feature that automatically scrapes all minor and major Google updates.
This helps our users keep up with the latest algorithms and understand how these affect their keywords' positions.
And since SerpWatch rank tracker is all about user-friendliness, we've made algorithm update information available as an overlay on top of the keyword data chart for easy access.
But there's more.
Users can also add Notes about any and all keyword ranking changes and use them for reference while researching their projects' performance.
Advanced SERP Features
While hugely important, keywords' positions are just part of the bigger picture.
Since the appearance of SERPs has changed dramatically over the years, keywords can now rank for a long list of rich results, better known as SERP features.
The exact number of these features is not known and it seems like Google keeps rolling out new ones constantly. However, the most commonly found features in SERPs include:
Featured Snippets

Images

Videos

Answer Boxes

Knowledge Graphs

Google Reviews
Tracking rich results you rank for is just as important as tracking your positions. This is because SERP features can push your website down the page and affect your CTR and traffic.
The good news is that our Search Intelligence Hub tells you exactly what type of SERP features your keywords are ranking for.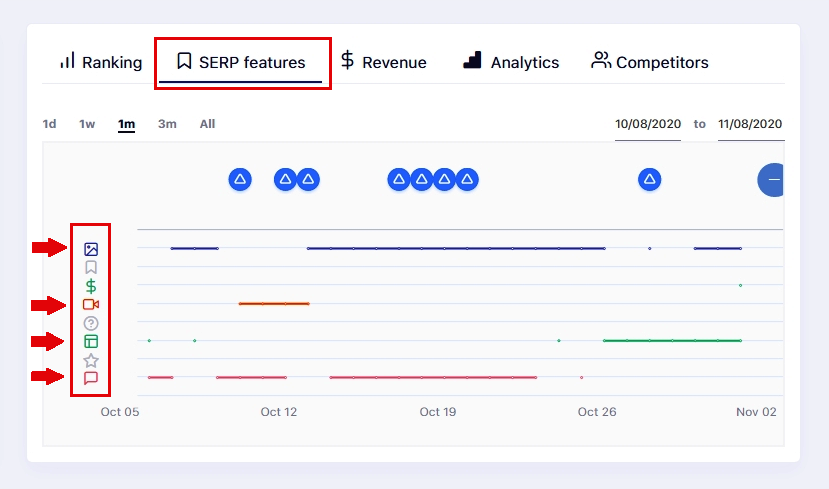 The project-level graph shows the current number of keywords ranking for a particular SERP feature, while the keyword level provides historical data about all the features your keywords ranked for in the past.
Fully Customizable Notifications
Another unique feature that sets SerpWatch apart from the competitors is our Notifications system.
SerpWatch Notifications were built on the idea that ranking alerts are valuable only when they match individual users' preferences.
Our goal for the Notifications is to add value to an already valuable feature.
This is why we've developed an alert system that adapts to your rank tracking needs.
SerpWatch is the only keyword rank tracker that lets you set your own rules for the type of notifications you want to receive.
Set the Parameters
Keyword rank tracking can be frustrating as it is and the last thing you need is to be bombarded with unwanted notifications.
With SerpWatch, this is a non-issue because we let you choose which ranking changes you want to be notified about.
If you set up notifications on the project level, rank tracking events will trigger notifications for all keywords within that project.
However, you can also disable or override these notifications for specific keywords.
Project Level
Project-level notifications can be triggered for the following events:
Those using a higher frequency of keyword checks will also find our email notifications frequency feature useful.
This unique feature allows users to specify the exact time to receive notifications by email and prevent the tool from flooding their inbox.
Keyword Level
Users can set up notifications for specific keywords for all of the events associated with the project-level notifications.
But SerpWatch stands out among the competitors for a reason, which is why keyword-specific notification triggers have an additional customization option.
At the keyword level, you can also customize the settings to receive notifications when a keyword ranks above or below the position you specify.
Choose the App
Keyword rank alerts are valuable ‒ but not if they're interruptive or ill-timed.
That's why SerpWatch lets users decide not just when but how they want to be notified about important keyword movements.
You can receive alerts through Slack, email, or any of the 1500+ Zapier-supported apps ‒ the choice is entirely yours.
And if you want to err on the side of caution, you can use them all simultaneously. 
Just to give you an idea of how nifty SerpWatch notifications are, here's an example of a scheduled daily email alert for a keyword that moved up and hit an all-time high position:
Keyword Collaboration
One commonly overlooked benefit of receiving notifications through an app of your choice is that it allows you to quickly decide on the best course of action.
Say, for example, you've just lost a coveted Featured Snippet for one of your keywords.
If you set up to receive SerpWatch notifications in Slack, you and your team can jump into a thread right away and put your heads together to recover the Snippet.
Client Management
A rank tracking tool as specialized as SerpWatch would make little sense if it didn't include an equally specialized client management dashboard.
SerpWatch makes the process of managing multiple projects at once more straightforward than any other SEO tool. 
It is also the only white-label tool of its kind that allows agencies to brand themselves professionally at no extra cost. 
White Label
The users of our Client Management system have access to all of the features available on the regular Dashboard.
They can also add their own logo, brand name, and even their brand colors to the White Label dashboard for a more professional look.
The agency logo will not only be visible on the Dashboard, but also on the branded SEO reports that agency owners can send to their clients.
Branded Reports
In Client Management, agencies can automate the reporting process by scheduling weekly or monthly branded SEO reports for their clients via email or Slack integration.
Agency owners can also manually generate a branded report whenever they feel the need to.
And since most agencies manage a large number of clients simultaneously, we've also made it possible to send reports to all clients at once.
Branded reports feature a polished and professional-looking layout with the agency logo displayed prominently on top of the page.
The logo creates an instant visual association with the brand and increases your credibility and trustworthiness in the eyes of your clients.
Export Ranking Data
Another unique feature of SerpWatch is the option to export all data from the reports as a single file – CSV or PDF.
This way, you and your clients can compare ranking data over different time periods and gain a comprehensive overview of how your tracking project is performing.
Having all ranking data in one place will come in especially handy to clients who manage projects in different languages for the same domain.
Exporting all data as a single file allows clients to compare and contrast how their keywords are performing across different locations.
Personal Agency Domain 
Unlike other rank tracking tools that require users to upgrade their subscription plan in order to receive a custom domain, SerpWatch offers it free of charge.
The URL of an agency domain will have the following form:
agencyname.serpwatch.io
Besides improving ease of access to the Client Management Dashboard, creating a personal domain will help agencies stand out professionally and secure their online reputation.
Client Portals
Client Portals refers to individual agency clients with access to their custom project Dashboard. 
The number of Client Portals an agency can add will depend on the agency's subscription plan.
However – unlike other rank trackers out there – SerpWatch allows agencies to add an unlimited number of projects (domains) to each client. 
There is also no limit to the number of reports Agencies can generate, download and send to their clients.
Custom Client Domain
In addition to their personal agency domain, agency owners can also create a custom URL to share with their clients (example: https://myagencyname.serpwatch.io/login).
The client can then use the link to access their Client Portal Dashboard on SerpWatch.
Not only does this speed up the login process, but it also serves as a privacy measure since each client will only see their own Portal and will not have access to other clients' tracking projects.
Last Word
A modern, user-oriented interface, a self-monitoring accuracy system, and a powerful feature pack complete with comprehensive white-label options are just some of the many things that set SerpWatch apart from the competition.
However, the only way to fully grasp what it is that makes SerpWatch stand above the rest is to give the tool a test run.
So don't just take our word for it: try SerpWatch rank tracker for 15 days free of charge and see for yourself why we stand out.