The Perfect Rank Tracker for Your Enterprise
For a lot of large companies out there, finding a rank tracker with an enterprise-grade engine is a must.
But how to do that?
And how to make sure it won't let you down once you start using it?
Choose SerpWatch for the optimal experience!
Not only does Serpwatch handle large keyword volumes at extremely affordable prices, but it also always gives out accurate information and allows for easy import and export of keyword data.
Keep reading!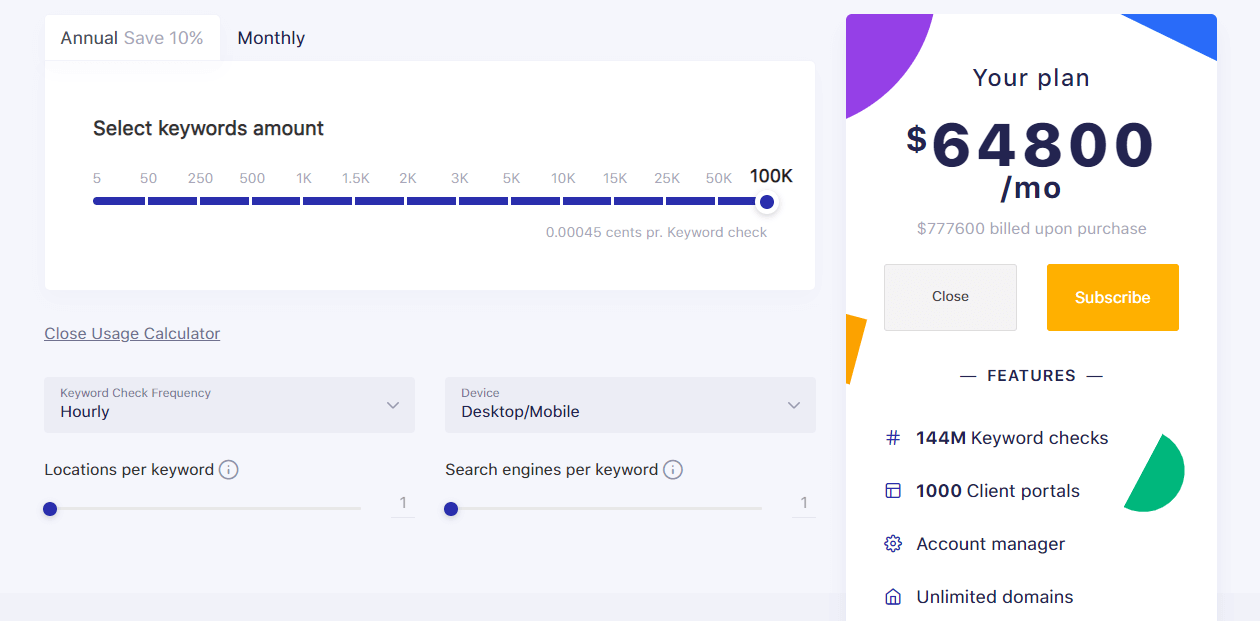 Use the SerpWatch Rank Tracker for a Large Keyword Volume
Big companies that have recognized the need to monitor a lot of keywords cannot use just any SEO tool to do so.
That's why you need to find one built on such a mechanism that it's able to monitor a large number of keywords without a hitch.
SerpWatch has what it takes!
Easy In-Bulk Keyword Upload
For one, you don't have to enter your keywords manually once you start creating projects—SerpWatch's enterprise rank tracker supports keyword bulk upload via CSV. There is no limit to how many keywords you can upload at once.
PRO TIP: Group the keywords you want to track in one CSV file and add them to a specific project.
Moreover, you can always add more keywords to any of your projects manually or by uploading a CSV file, just make sure your subscription plan allows it.
Intuitive Keyword Monitoring
No matter how many keywords you are tracking and the number of projects you have set up in the process, SERP monitoring is quite user-friendly.
SerpWatch's app interface is very intuitive. All the information is displayed in a manner that makes it understandable and easy to navigate.
Once you log in, you can see the general information about your projects and keywords, which allows you to choose whether to delve deeper into the tracking data you see there.
PRO TIP: You can star your biggest money-makers, so you can always easily spot them among your other keywords, or survey their info right there on the dashboard.
Within the project view, you can check out any of the enterprise rank tracking charts filled with your historical data—Rankings, Revenue, Snippets, and Analytics.
Right below is a list of keywords with general data about their movements. Clicking on any of them provides detailed information on the way the keyword moved, the SERPs it occupied or still does, as well as management options.
Comprehensive Keyword Export via SEO Reports
Once you gather the data you need for the successful implementation of your SEO strategy, you may want to choose to have an external copy of the data SerpWatch has gathered for you.
You can easily do that by downloading an SEO report or sending it to your email. If your company is a marketing agency, and you have enabled the white label option, you can also send or schedule reports to be sent to your clients' email accounts.
PRO TIP: You can set up weekly and monthly scheduled reports, but also download them at any moment.
SerpWatch's SEO reporting function allows for plenty of customization options in terms of the sending frequency, report format, time frame, keywords included, as well as the outgoing custom message.
Easy Onboarding and Helpful Support
Having plenty of features available—and this goes for any tool—means that you need to learn how to use them all.
Without that knowledge, all tools seem useful.
However, as luck—or good sense—would have it, the SerpWatch rank tracker suits any enterprise, and it's pretty easy to navigate and get around.
For those first steps in a new environment, you also get a little bit of help with our interactive in-app guides, as well as community articles, all neatly gathered in the Knowledge Base.
PRO TIP: Check out our other blog posts to gather additional information about how SerpWatch works.
If you still need any kind of help, our support agents respond very fast and are always willing to resolve any issues that may arise.
The Most Affordable Prices on the Market
Cost-effectiveness is especially important for an enterprise scouting a rank tracker that can track a large number of keywords.
Once you find one that is actually able to support the scope of your SERP-tracking needs, you have to make sure it doesn't take the shirt off your back in the process.
Enter SerpWatch!
This rank monitoring tool is good at keeping an eye on your SERP positions for the lowest price on the market.
Our scalable subscription plans are formulated that way precisely so that you don't have to pay for the enterprise rank tracking features you don't use.
You can track up to 100,000 keywords with our highest plan, and get up to 3 million keyword checks on a monthly basis.
How do you get to that number? It's very simple.
If you have all 100,000 keywords being monitored by SerpWatch, and want their positions to be checked once a day—which is the lowest check frequency we offer—then you will have 3,000,000 monthly keyword checks (100,000 keywords times 30 daily rank tracking checks.
PRO TIP: All SerpWatch subscription plans include an unlimited number of projects, users, tracked domains, competitor domains, locations, as well as multiple search engines, access to white label, reports, Google Analytics, customizable notifications, up to hourly positions checks, historical data stored forever, and more. However, by choosing any of the highest plans, you also get your own account manager.
There is another scenario where you would want to monitor keyword rankings more frequently than once a day, and here's how that works — the more frequent position checks you want, the fewer keywords you get to track.
Imagine you've subscribed to the highest SerpWatch plan, and want to get more frequent position updates, let's say, twice a day. You would have 6,000,000 position checks a month (100,000 keywords times 60 checks).
The same principle applies to check the SERPs for the same keyword in multiple search engines, for example.
For checking 100,000 keywords in five search engines twice a day, you would get 30,000,000 position checks per month (100,000 keywords times five search engines times 60 checks).
Our pricing plans range from $1+/month for tracking five keywords to $1,500+/month for monitoring 100,000 keywords. If you sign up for an annual subscription, you will also get a 10% discount.
You won't get a deal like this anywhere else!
Accurate SEO Rank Tracking
When tracking SERPs for a lot of keywords, you sometimes run the risk of getting inaccurate data simply because the tool you're using cannot handle the workload properly.
There is no such danger with SerpWatch.
We have designed and implemented a system that works flawlessly, especially when it comes to scraping search engines for tracking data.
By focusing only on monitoring keyword positions, SerpWatch gets the job done much faster than other tools that display a broader spectrum of different types of SEO information.
Also, SerpWatch's rank tracker is highly tuned to enterprise needs. Its up-to-hourly keyword check frequency makes it one step ahead of other similar tools as it's the only one on the market with such high checking frequency.
Therefore, the information is more valuable to our users because it's always fresh and actionable, which is a high commodity in the volatile SEO world.
We pride ourselves on gathering the most accurate SEO rank tracking data, having the most frequent updates, and providing real value to our users.
PRO TIP: You can easily check your positioning with a good VPN tool and an incognito window in your internet browser, but once you start using SerpWatch, you won't have to.
Customizable Notifications
Arm in arm with accurate data goes a completely customizable notification system embedded in the SerpWatch rank tracker.
What good is having your keywords checked on an hourly basis if you don't get notified about the results equally as frequently?
That's why you are able to set up the notification system in a way that's most useful to you.
You can set up notifications on the project and individual keyword levels.
PRO TIP: Since enterprises tend to monitor a large number of keywords within a single project, you might want to select to get notified on the movements of your most valuable keywords.
Moreover, you can choose to receive hourly to daily rank tracking messages in a dedicated Slack channel or via email upon every rank position or SERP change.
You also have the option to choose the changes you want to be notified about—how many positions the keywords moved up or down, if they crossed a threshold (moved in the first 10, or shifted below the top 30 places), keywords entering or dropping out of the featured snippet section, or if any of them reached an all-time high position.
Useful Integrations
If you are keen on getting regular updates about at least some of your keywords, then you'll appreciate having the option to act upon them immediately.
To that end, SerpWatch has the option of setting up Zapier-triggered tasks based on your keywords' ranking changes.
This allows you to take notifications one step further when setting them up by automatically assigning SEO audits from your rank tracker to your enterprise or team members, for example, when a big change occurs.
PRO TIP: You can connect specific Google Analytics properties or views with different projects you are tracking in SerpWatch.
By the same token, you can connect your Google Analytics properties to projects in SerpWatch so as to get a 360-view of your keyword rankings right there in the app.
If you like all you've read here, go on and sign up for the SerpWatch free 15-day trial today!