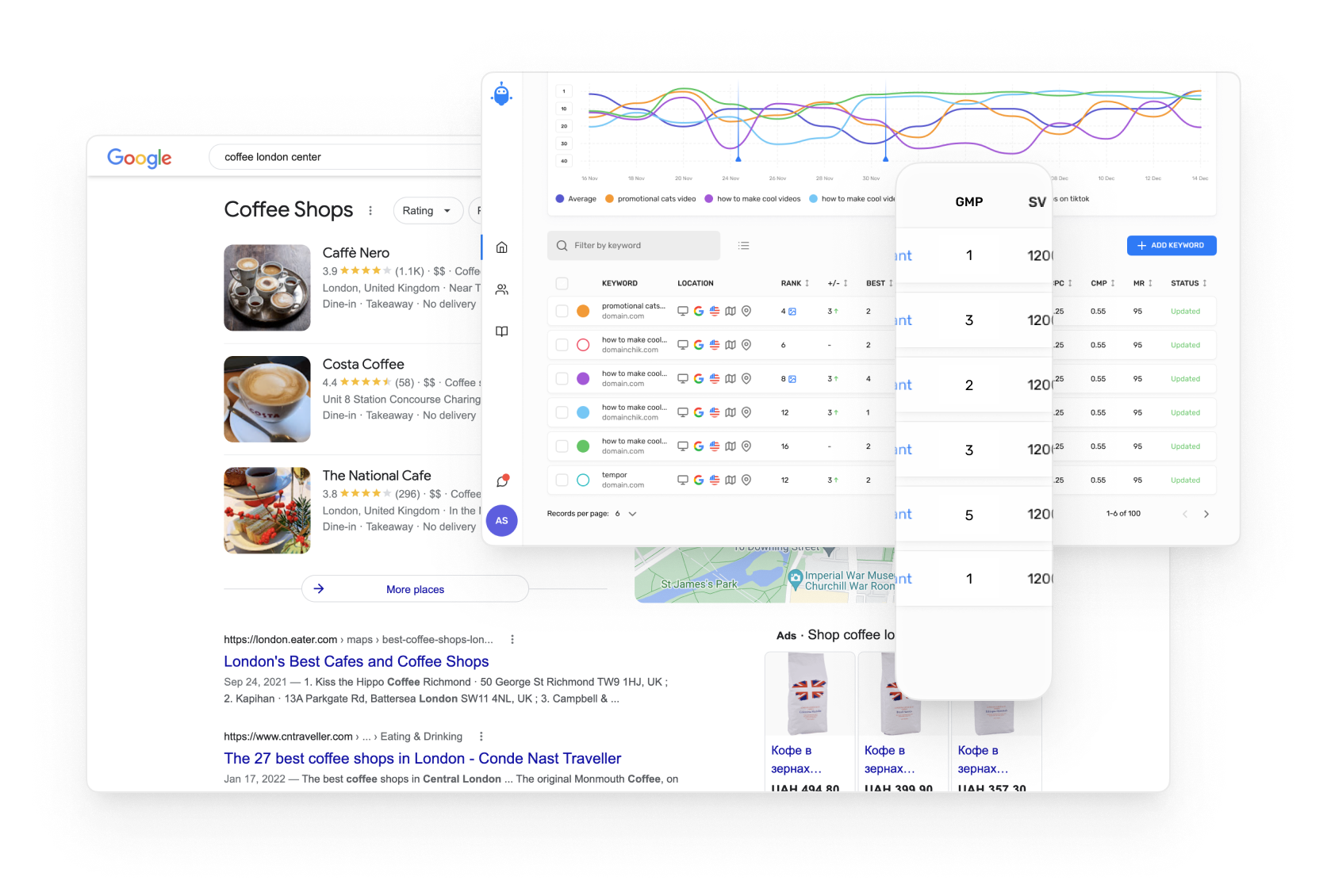 Did you know that Google Map Pack is now THE best way for small and multi-local businesses to boost visibility and drive foot traffic? 😲
In 2021 "near me" searches reached an all-time high in the US – and almost all of these local searches will prompt Google to serve Map Pack results.
And when a Map Pack is on top of the page, most people won't bother to scroll down to organic results. 🥲
But how will you know if your business ranks in Map Pack when location-based results are highly personalized?
It's easy!
SerpWatch will accurately track your Google Map Pack results for any keyword and location and notify you of all rank changes. 🤩
What Is Google Map Pack?
While the name itself may be unfamiliar to some, the appearance of Map Pack in search results is commonplace.
Google's mission is "to connect you to the most relevant, helpful information" and present that information in an easily accessible way.
This is why Google search results pages (SERPs) no longer consist of just plain blue links. SERPs now include images, videos, featured snippets, knowledge graphs, tweets, etc.
All these visual elements are collectively known as SERP features.
Google Map Pack (sometimes also called Google Local Pack or Local 3-Pack) is one of them.
When Does Google Show Map Pack?
Map Pack appears on top of search results for local Google searches, i.e. it's triggered by queries with local intent.
But what are queries with local intent? 🤔
Local intent reflects a searcher's interest in the location of a product or service.
Some examples of local intent keywords that trigger Map Pack in local SERPs are "supermarket nearby", "plumber near me", "best pizza New York", etc.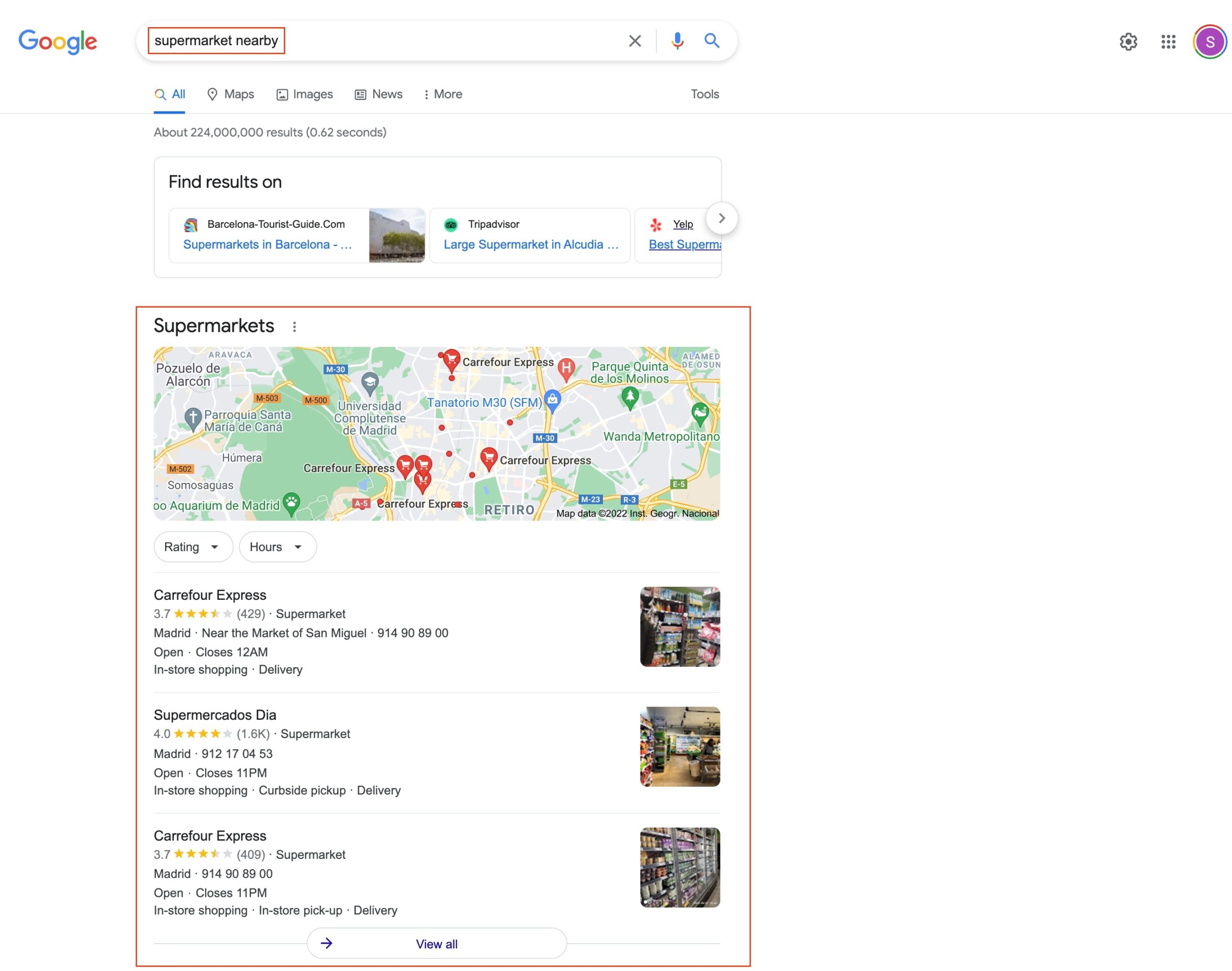 But keep in mind that Google is pretty good at recognizing the local intent behind a query even when the query doesn't contain location-related words.
For example, if you search for "plumber" in Google, the first thing you'll see is a Map Pack showing plumbing services in your area.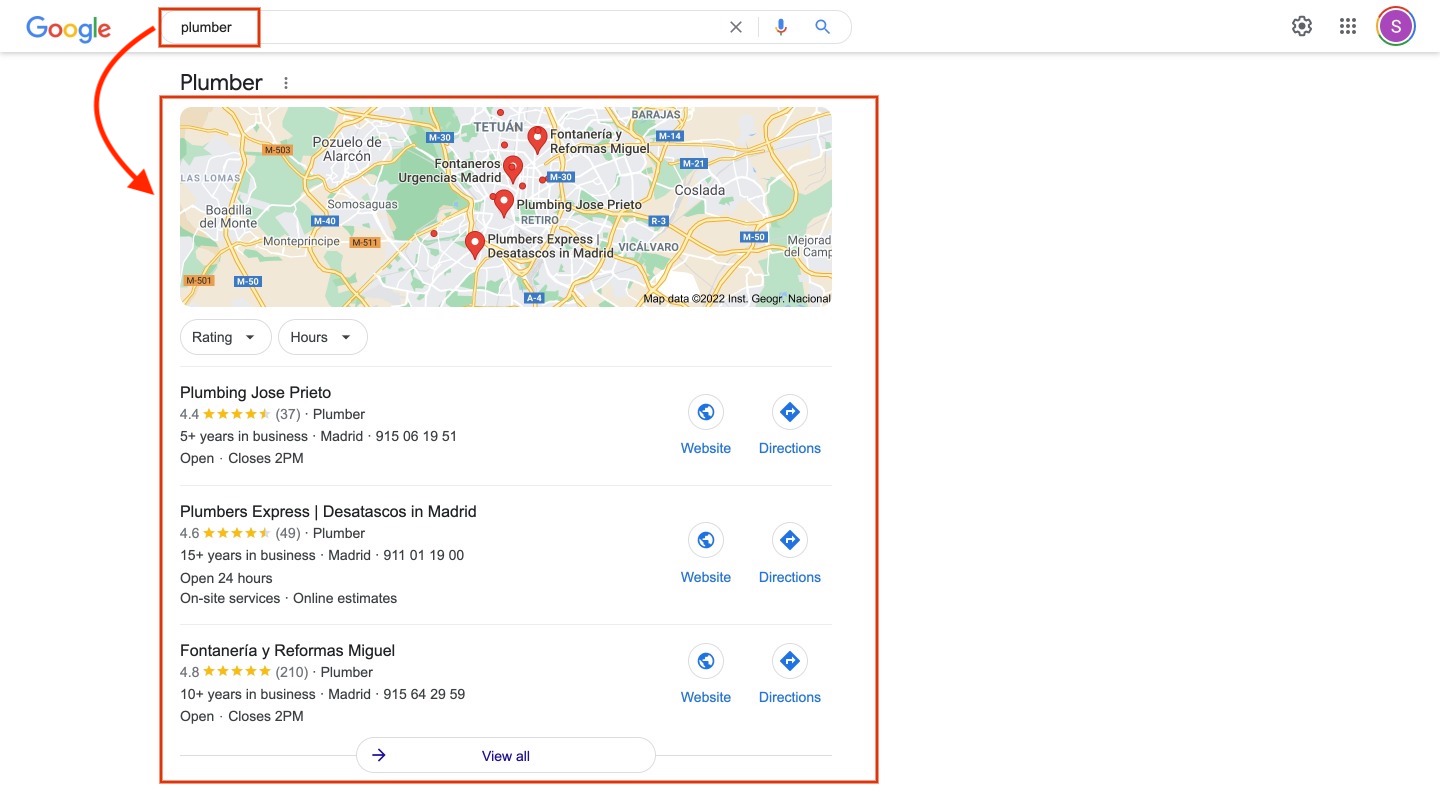 Google 3-Pack shows a listing of the top three businesses most relevant to the user's search intent and location.
And along with the listing, users can see the location of businesses on a map.
Map Pack can also include links to the business website and directions in Google Maps, star rating, phone number, years in business, price range, open hours, etc.
Why is Map Pack Important?
As you can see in the example below, Map Pack visually dominates Google's local search results pages. And with Map Pack on top, organic listings are pushed way down the page.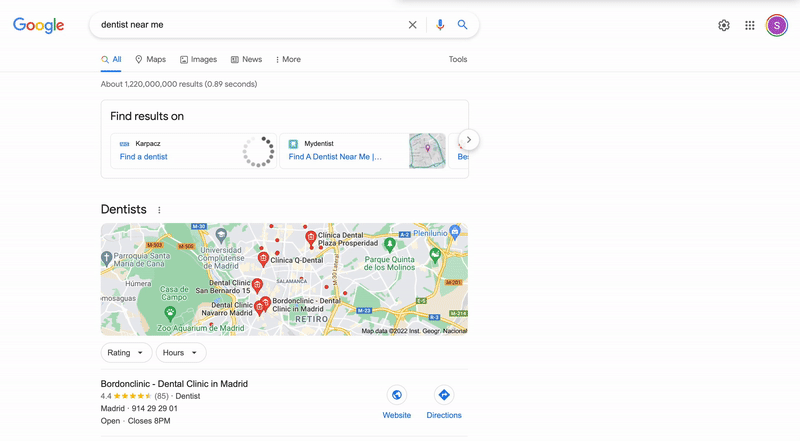 This means that when a Map Pack pops up on top of a SERP, standard organic results stand little chance of being noticed.
This makes Map Pack the #1 traffic driver for local businesses. 🤩
So how do you get in there?
How to Get in Google Local Pack?
According to Google, local search rankings are based on the combination of three factors: relevance, distance, and prominence.
The main idea behind Local Pack is to connect users with those businesses that are most relevant to them in terms of:
a) proximity to a specific location
b) search intent
Location can be specified by the user (e.g. "near me" searches or searches containing a city name) OR it can be determined by Google.
Google Map Pack is different from organic listings because Google sources information for local searches from Google Business Profiles (formerly known as Google My Business or GMB).
And though different Google ranking factors can influence the appearance of Map Pack, one thing's for sure – businesses without a GMB cannot rank for it.
This is why optimizing your Google Business Profile is the first and most important step to winning local search results.
Other ways you can increase the odds of ranking for Google Map Pack include:
Targeting and tracking local keywords
Asking for and responding to customer reviews*
Keeping your NAP (Name, Business, Address) information consistent across your online presence
Running Google Local Pack ads
Publishing quality content optimized for local keywords
Building local backlinks
Optimizing for local search on mobile
Optimizing for voice search
Maintaining an active social media presence
*One question we often get is "Does responding to reviews help local SEO?" The answer is 'yes'! According to Google, responding to reviews is essential for improving your local ranking. It shows customers you care about them, increases trust, and helps drive foot traffic.
Last but not least, don't forget to track your results in SerpWatch local rank tracker.
Rank tracking is a vital part of Map Pack optimization and without it, you risk letting competitors steal your customers.
Why You Should Track Local Pack Results
It's true that your local business can appear in Map Pack and standard results at the same time. However, you should care more about winning a spot in the Map Pack than ranking #1 in organic results.
The reason is simple: Google Map Pack appears above the fold on the SERP. This means that 9 times out of 10 it's the first thing a user sees in local search results – on both desktop and mobile.
People also tend to trust Map Pack results more than organic listings when they're looking for a product or service in a specific location.
However, SERP features are notoriously volatile and it is impossible to track them manually.
This is why you have SerpWatch.
As a well-rounded SEO tool with a built-in free SERP checker, SerpWatch provides all the data you need to improve your local ranking and drive more foot traffic.
In SerpWatch, you can accurately track your Google Map Pack results for specific keywords and across multiple locations.
Tracking Google local results allows you to quickly identify keywords that trigger Map Pack and understand how customers see your business.
This way, you can devise an optimal local search strategy that fits your (or your client's) needs instead of wasting time on one-size-fits-all solutions.
More Reasons Why Map Pack Tracking Matters
With Google's recent Vicinity update for local search, proximity to searcher's location has become more relevant than ever. This means now is the time to focus on winning the Map Pack as you will be competing with fewer businesses in your area.
It directly affects your revenue 🤑 – compared to the majority of standard searches, keywords that trigger Google Map Pack are usually highly commercial (i.e. people using these keywords have a strong intent to buy).
Tracking Map Pack helps you understand exactly what you need to focus on to get more customers (e.g. GMB optimization, publishing more relevant content, building local citations, adjusting your serving area, etc.)
You have much more control over your Google local rankings as opposed to organic results.
It may take between 6 to 18 months to see results when you're trying to rank your website in the Top 3 of Google organic search (or even on the first page). But SEO local results are usually visible in weeks.
For local business owners, ranking in Google's Map Pack is the easiest way to increase foot traffic and establish local market dominance. 💪
Agencies can use Map Pack tracking to demonstrate results to clients and keep them calm until their website starts climbing up the rankings. 😌
How to Track Google Map Pack in SerpWatch
SerpWatch lets you track Map Pack and organic results in one place. This means you can get a complete picture of your website's performance in search and save time on rank analysis.
By using Google Map Pack tracking in combination with the Multiple Locations feature you can monitor your visibility from all relevant parts of the city.
Besides tracking local SERPs, you can also tag and star valuable keywords, filter results by location, monitor SERP features on a timeline, cross-compare data on a single line graph, and more.
And it takes less than a minute to set up Google Map Pack tracking in SerpWatch!
All you need to do is connect your Google Business account in Project Setup or Account settings: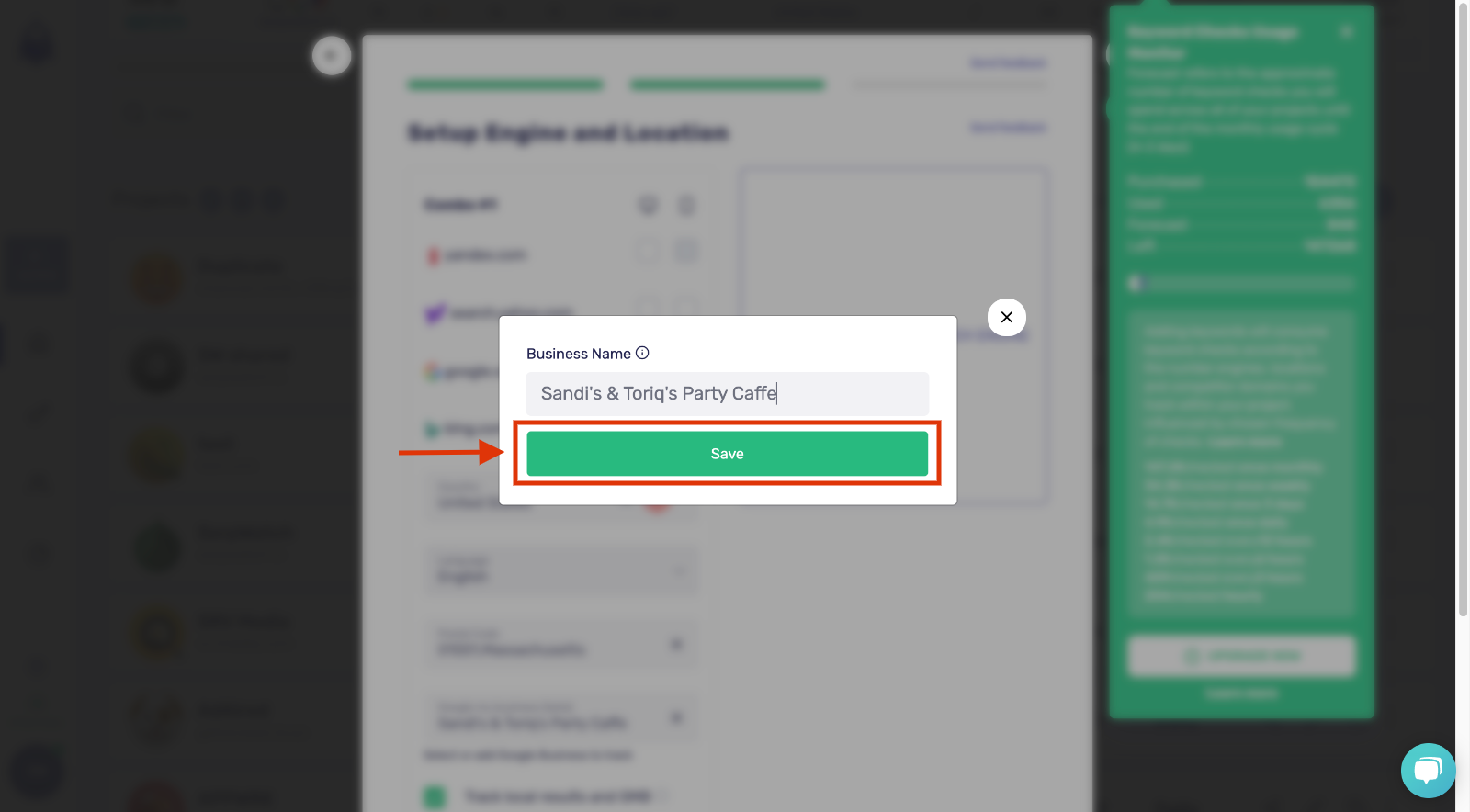 Keywords that trigger Map Pack will be visible in the Local Rank column on your keyword list:
And you can also see your Local Pack results on the SERP Feature Timeline – for any date range you specify!
Final Words
To recap, securing a spot in Google Map Pack is the fastest way to increase foot traffic and revenue for local businesses.
So after you've optimized your Google Business Profile and implemented Local SEO best practices, make sure you don't miss a vital piece of the puzzle – tracking your Map Pack results in Google!
Ready to boost your local business ranking and get more customers through the door?